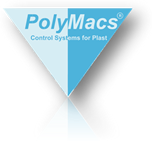 The PolyMacs service with Wiba Tech
WIBA Tech is your new partner
PolyMacs® / Wiba Tech has great experience with practical manufacturing in cleanroom, injection moulding, blow moulding and extrusion. We offer solutions for on-line measuring, closed loop regulation, production monitoring, material handling, production optimization and improvement of the environment.


Alpha-Ionstatex
Great experience with practical manufacturing in cleanroom
Cleanroom Nordic, complete cleanrooms, LAF modules
ISO certification of cleanrooms
Moog, Moog-Buhl
Wiba Tech has a large inventory with all parts for systems from Moog, Moog-Buhl and PlastAdviser. We have an effective organization with good facilities and skilled employees who that can provide fast consultancy, service and repair.
Supply of original servovalves and control systems


NDC-Beta LaserMike
Solutions for messuring position, speed, diameter and thickness
On-line monitoring with fully integrated systems


Your new partner is Wiba Tech
Over the same period WIBA Tech has been one of the market's significant suppliers of production equipment to the plastics industry. As the Danish distributor of Wittmann Battenfeld, WIBA Tech is a turnkey supplier to the plastics industry with injection molding machines, robots and peripherals. WIBA Tech also offers recycling from Erema, extrusion from Reifenhäuser, masterbatch from Tosaf Color Service, end-of-arm-tools from ASS and more products to service the plastic industry.

We look forward to continuing the good relations with all our business partners.